News:

In the picture - honours for dance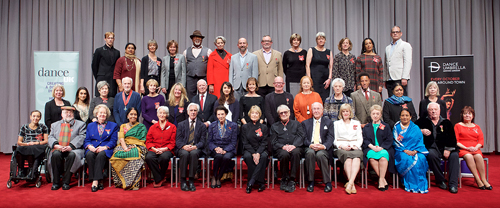 More than 40 of Britain's most renowned dance professionals – from prima ballerinas to local dance teachers, from dance critics to the choreographer of Mamma Mia – gathered for a historic photograph featuring those who have been honoured in the Queen's or New Years' Honours lists for services to dance. The photograph, taken today (Tuesday 20 October) on Sadler's Wells' stage, was organised by Dance UK and Dance Umbrella.
This gathering aims to raise the profile of dance, and encourage more people to nominate outstanding dancers, choreographers, teachers and leaders to receive honours for their outstanding achievements in cultural life and local communities. The photograph is dedicated to David Drew MBE, principal dancer and former member of the Royal Ballet who died on 16 October 2015. David was one of the founders of Dance UK.
Top Row Left to Right: Edward Watson MBE, Piali Ray OBE, Jeanetta Laurence OBE, Prue Skene CBE, Namron OBE Esq., Jeanette Siddall CBE, Fergus Early OBE, Peter Huggins MBE, Nadine Senior MBE, Linda Jasper MBE, Kiki Gale MBE, Deborah Baddoo MBE, Mark Baldwin OBE
Middle Row Left to Right: Marie McCluskey MBE, Nina Yadavan Rajarani MBE, Lea Anderson MBE, John Ashford CBE, Janet Smith MBE, Dr Scilla Dyke MBE, Colin Nears CBE, Cassa Pancho MBE, Deborah Bull CBE, Anthony Van Laast MBE, Veronica Lewis MBE, Dame Monica Mason, Kenneth Tharp OBE, Mira Kaushik OBE, Valerie Bourne CBE
Front Row Left to Right: Celeste Dandeker-Arnold OBE, Richard (Dick) Matchett MBE, Sheila Labhart OBE, Bisakha Sarker MBE, Lady Anya Sainsbury, Donald Whyte MacLeary OBE,Dame Beryl Grey, Dame Gillian Lynne, Robert Cohan CBE, Clement Crisp OBE, Janet Lewis MBE, Brenda Last OBE, Nilima Devi MBE, Douglas Squires OBE, Hazel Rayson MBE
Dance UK organises the Honours Advisory Committee, which is a voluntary group of individuals from different parts of dance who meet to ensure that a wide range of deserving individuals are regularly nominated. Over recent years the group has been successful in increasing the breadth and numbers of dance people receiving honours.
Cindy Sughrue received an OBE for services to dance when she was Chief Executive of Scottish Ballet. She described why the Honours system is important:
"I had never really given much thought to the honours system. I had routinely noted who had been recognised and offered my congratulations. But when I received a letter informing me that I was to be awarded an OBE I was surprisingly overwhelmed. I was truly humbled to think that someone had thought enough of my contribution to consider it worthy of an honour – and gone to the trouble of pursuing it. I was also acutely aware of the many dedicated people I know whose names weren't on the list.
"There are few opportunities to recognise and applaud long term commitment. The honours system is one way of profiling those working in dance amongst peers across society; it celebrates the contribution to our sector alongside outstanding people in their respective fields. It recognises that ordinary people do make a difference – it's not all about household names, sports personalities and movie stars. Not everyone who deserves recognition receives it. But that's probably because they just haven't been nominated."
Photo: Elliott Franks
Leave a comment
You must be signed in to post comments.