Interview:

Rick Guest on 'What Lies Beneath'
What Lies Beneath an exhibition of photography by Rick Guest
The Hospital Club, 24 Endell St, WC2H 9HQ, 22 -31 January 2016


The images in photographer Rick Guest's latest exhibition What Lies Beneath (The Hospital Club, until 31 Jan) are deliberately larger than life but what hits you first is each dancers' fragile strength and supreme physicality. Look again and from the look of an eye or the angle of the shoulders, arms or chin you'll see other qualities; sacrifice, pain, defiance and the love of their art. Meanwhile the consistency of approach to the images is a reflection of Rick Guest and partner Olivia Pomp's consistency of admiration and respect for the artists they have shot.
Rick, who normally takes advertising images for the top brands and was an official photographer for the London 2012 Summer Olympics, took on the photography of these dancers as a personal project. The awe and appreciation of their art and what they endure, which is clear from every image on show, has grown over the years this collection has developed.
"It all started when we photographed Ed Watson for Intelligent Life (the magazine that accompanies The Economist) for a fashion feature. We photographed him in a suit and of course he was great, but before that, when he came to the studio in his own casual clothes he looked like a sickly Victorian child and we were transported by him. I took a few shots and afterwards I talked to the Royal Opera House," said Rick.
The Royal Ballet agreed to send their dancers to the studio where Guest works with Olivia Pomp and his personal project took legs. His first exhibition took place in 2013. Now Is All There Is (taken from George Balanchine's words "What are you waiting for – now is all there is") described dancers' interpretations of the key aspects of balletic technique; balance, strength and poise. A year later, a second exhibition Language of the Soul (a partial quote from Martha Graham's "Dance is the hidden language of the soul" reflected the dancers' inner and outer strength and their physical and emotional beauty through movement.
What Lies Beneath, the third exhibition in the series, shows exactly what it says. Rick explained: "As Olivia and I got to know the dancers we appreciated more and more what it costs them. Their job isn't to show the effort, so on top of the Olympian effort I wanted to show the spirit and sacrifice that it takes to perform. I'm not a behind the scenes guy but I sat down with Olivia and we agreed we wanted to do justice to what these dancers go through". This wasn't a one-way process, but a fusion of the dance, photography and some of Rick's own fashion-based background. "We talked with each dancer before shooting them. I told them that I would serve them and communicate what they wanted, and that they could be anything they liked. It was up to them whether they showed their vulnerabilities or their spirit of defiance, or whether they wanted to show that they danced through wretched pain or the other sacrifices they had made to get where they are. Then we tried to strip them down so it was just a look in their eye. We hope that gives an idea of their experience."
Rick told me he was moved to tears many times. On Melissa Hamilton (First Soloist with the Royal Ballet): "She is the most defiant strong willed woman, both physically and emotionally, but that is hidden within her. I love that this spirit is carved into her body which physically serves the purpose of her dance. Seeing into her eyes… That emotion is the most important thing." On Olivia Cowley (Soloist with the Royal Ballet): "In three frames she gave me the gift of opening her soul. My sister and I were very moved. The shot on the wall (the final image in the show) was the third frame. We shot more, but I didn't care because with that ghostly look I knew it was done."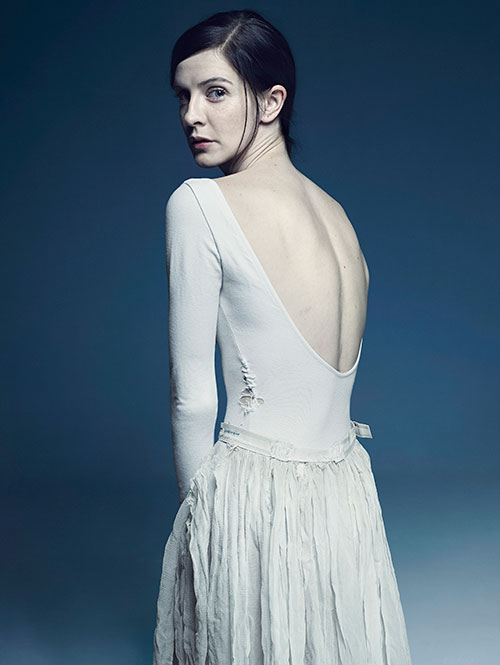 I think they're wonderful. Each image is personal, individual and beautifully expressed despite the consistent backgrounds and I wish I had bought the eponymous photo book. Before you see the exhibition yourself, I'll leave you with what Rick said at the beginning and end of our meeting: "These images are larger than life because that's how I see them. If you see a photograph of someone that is six foot tall you know that he is a god of dance" and "If I can show dancers in another art form, perhaps people will come to the ballet through photography."


Continues until 31 January.
www.thehospitalclub.com
A book to accompany the exhibition includes an introduction by Tamara Rojo and an essay by arts journalist Sarah Crompton
Rrp £50. Available at rg-books.com
Main photo: Edward Watson. See our gallery below with a selection – featuring dancers from the Royal Ballet and English National Ballet, amongst others…


Carole Edrich is a prize winning photographer, journalist and social entrepreneur with a passion for all things dance. Find her on Twitter: @C_E
Leave a comment
You must be signed in to post comments.