Interview:

Petter Jacobsson - on Ballet de Lorraine's dance 'in the moment'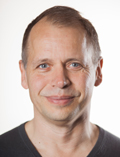 Petter Jacobsson, formerly a principal dancer with the Sadler's Wells Royal Ballet (now Birmingham Royal Ballet) returns to London with Centre Chorégraphique National – Ballet de Lorraine for four performances in the Linbury Studio Theatre, Royal Opera House this week (Wed 11 to Sat 14 March). The company will present a double bill of two works new to the UK: Shaker Loops by Adonis Foniadakis (Greece) and Cover by Itamar Serussi (Israel). A few days before the visit, Graham Watts caught up with Jacobsson at the company's home base in the city of Nancy…



Your company has an interesting dual identity, initially as a long-standing ballet company, but subsequently having changed direction to become a Centre Chorégraphique National. How did that come about?
While we were originally formed as Ballet de Lorraine in 1968, we subsequently became a Centre Chorégraphique National for the Lorraine Region in 1999 when the Government expanded the network. So it is important to emphasise that, first and foremost, we are a Centre Chorégraphique National. Our name is actually Centre Chorégraphique National – Ballet de Lorraine.
It is a unique situation because, in the 1980s, the French Government set up regional centres with a deliberate purpose to decentralise dance, which had previously been all about Paris – and especially to push for more contemporary dance in the regions. We are 100% supported by the state through both the Region of Lorraine and the city of Nancy. It is quite a unique arrangement.
What is the company's mission?
The mission for any Centre Chorégraphique National is to create new work. They are all run by choreographers. Ours is a bit different because we have permanent dancers, which only five of them have – Ballet Preljocaj is another example of a CCN with permanent dancers. We invite different choreographers to come and do work on us and sometimes we also revive historical work to make a juxtaposition with our new work through reference points from the past.
What do you mean by 'historic' pieces?
I mean our near history, reviving pieces that Ballet de Lorraine did in the '60s, '70s, '80s and right up to recent years. Sometimes we will revive a piece from the distant past. For example, we just did a reconstruction of Francis Picabia's Relâche, which dates back to 1924, but that was for a specific purpose within a programme that was about the history of performance and modernity.
Is there no classical ballet remaining in the company?
The name Ballet de Lorraine often leads to the confusion that our dancers will be classically trained ballet dancers. We have some girls who can still dance on pointe but our company members are not ballet dancers. We are an eclectic group of versatile dancers with a mix of different body types and personalities. I enjoy this gallery of different individuals; there is no uniformity about our dancers.
Is this Ballet de Lorraine's first visit to the United Kingdom?
I don't know if the company has been here before. If it has, then it was certainly a long time ago!
You've chosen to bring two works that have not been seen in the UK before but also, perhaps more importantly – by choreographers who are unfamiliar to British audiences. Why did you choose these two pieces to showcase your dancers and your style on this first visit to London?
I'm really happy about Kevin O'Hare's [Director of The Royal Ballet] support for this project, which has been on the basis of complete trust. Cover premiered a few days ago (6 March), so it is absolutely new. Kevin hasn't seen the work; I only saw it yesterday for the first time. It is literally "fresh out of the oven" and now coming to London.
The other piece, Shaker Loops , was premiered in October 2014 and so this programme represents what is happening here in Lorraine at this moment. The immediacy of it is nice. You never see the same performance twice; it's very ephemeral and that's the beauty of dance. Our programme is very much "in the moment".
It also shows off the dancers in a very physical way but I'm emphasising the immediacy aspect because in many ways that sums up the purpose of the Centre. We do a lot of new creative work each year. I find that quite exciting. There's always new people coming here and we always have creative things buzzing around. I'm most interested in saying this is our menu for today, take a look and comment on it and then we move on to something else.
This will be the first time that these two works have been paired together.
The programme seems to present a fascinating, very challenging musical pairing – from the very minimalist work of John Adams (Shaker Loops) to a luscious Berlioz symphony (Cover). You couldn't really get two more opposed pieces of music?
Absolutely! Both pieces are very difficult in the way of musical choices and extremely rich. It's full-on, it really is. It's a pity that the layout of the Linbury doesn't allow us to have live music for these performances.
Are you bringing the full company?
Almost – 22 of our 26 dancers.
You must be one of the world's biggest contemporary dance companies…
It is pretty big. It comes, of course, from the fact that we were once a classical ballet company. Since that time we have shrunk because obviously a contemporary company doesn't need as many dancers as companies that are doing the classic ballets. It is, unfortunately, more likely these days to cut back on dancers rather than expand. Our company is still a good size because contemporary choreographers don't often have the opportunity to use up to 26 dancers. We can offer that.
Many Londoners will remember you as a dancer with Sadler's Wells Royal Ballet…
Yes, I was here for 11 years and was of course where I met Kevin (O'Hare). I left the company when it relocated to Birmingham.
So you made the transition from classical ballet to contemporary dance after you left?
I moved to New York and started a whole new career as an independent artist. I worked with different downtown choreographers (such as Merce Cunningham and Twyla Tharp) and I started to choreograph myself.
Then I became artistic director of the Royal Swedish Ballet. They wanted to modernise and I got the job to revitalise the company. I have a classical background and so I understand that world and what it requires.
I really loved doing what I did when I was a ballet dancer but I always had the interest and the urge to develop myself. The endless possibilities that exist within dance have always interested me. This has been my driving force. I came to a point where I could have kept going with ballet but there were new generations coming up and I knew that very soon I would become an "old" ballet dancer – and I didn't want to become an "old" ballet dancer. So, for me it was much more interesting to redevelop myself in a different way.
Ballet has a language and a certain must-have look but that doesn't mean that it is emotionless. Ballet needs the energy and dynamics required for any dancing. It's not what you do but how you do it. I always look for dancers that have a special dynamic about the way that they dance.
This trip to London must feel a bit like coming home?
I lived in London for ten years so, yes, it is really exciting to be coming back. I hope that some people will remember me as a dancer and now I'm representing another type of dance with other types of dancers.
For me, it is a great joy to come back to London and to show something that is of today. Let London audiences see what is on our menu and come and have a nice evening together with my dancers from Lorraine. It's all about communication and enjoyment.
*Ballet de Lorraine, Linbury Studio Theatre Royal Opera House,
11 – 14 March. Tickets from £7*
www.roh.org.uk


Graham Watts is a freelance dance writer and critic. He is a regular contributor to Dancing Times and also writes for Londondance.com, Dancetabs.com and other magazines and websites in Europe, Japan and the USA. He is chairman of the dance section of the Critics' Circle in the UK and of the National Dance Awards. Find him on Twitter @GWDanceWriter
Leave a comment
You must be signed in to post comments.