Interview:

Creating 'Cléopâtre – Ida Rubinstein'
Les Saisons Russes du XX1e Siecle, founded by former Bolshoi Ballet star turned ballet entrepreneur, Andris Liepa, returns to the London Coliseum in July (16 – 20th). The company are bringing three programmes, including five of Ballets Russes choreographer Mikhail Fokine's greatest works ( Le Spectre de la Rose, Scheherazade, Chopiniana, Polovetsian Dances and The Firebird) -and the London premiere of Cléopâtre – Ida Rubinstein – a tribute to the enigmatic actress/dancer Ida Rubinstein (1885-1960), star of Diaghilev's Ballets Russes who danced in the title role of Cleopatra during the company's Paris season of 1909. Choreographer Patrick de Bana -one time dancer with Béjart Ballet, Compania Nacional de Danza of Spain and flamenco star Eva Yerbabuena – tells us more…
How did you meet Andris Liepa?
I actually met Andris Liepa 20 years ago during my stay as a principal dancer with the Maurice Bejart Ballet Company. He came as a guest to take part in some of our performances. Then, two years ago, I was working with his sister Ilze Liepa on a small pas de deux which we wanted to perform ourselves in Tokyo. Andris came to one of the rehearsals at the Bolshoi Theatre's studio and afterwards told me he'd found the choreographer he'd been looking for! He then asked me if I was interested in working on Cleopatra with him. I immediately liked the idea of recreating Cleopatra; I love everything about the Ballets Russes and Diaghilev.
What interested you about Ida Rubinstein – and Cleopatra?
Well both were amazingly strong women; they knew perfectly what they wanted and what they didn't want. I'm interested in strong historical figures anyway and I think they both had a lot to give…and a lot to take!
Were you inspired by Fokine's original vision of Cleopatra?
The inspiration came through respect for the past and from all the beautiful decadence of early 20th century Paris. I wish I could have been there the day of the world premiere with the Ballets Russes.
Did you work closely with Ilze in bringing the characters to life?
Ilze and I worked very closely together; the scriptwriter, Jean Francois Vazelle, did a fantastic job in bringing together all the elements to give us such a good story! Everyone worked together as a team and I also worked closely with Pavel Kaplevich, the set and costume designer who is really creative, really innovative; it was a wonderful experience and I'm very excited about the production coming to London in July.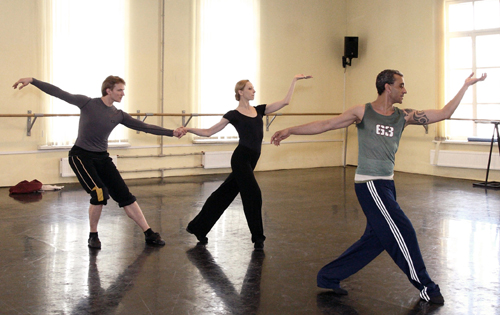 Lleft to right: Ilya Kuznetsov (Mariinsky), Ilze Liepa and Patrick de Bana in rehearsals for 'Cleopatra'. Photo: Valeria Komissarova
Tell us about the music of Omer Faruk Tekbilek
Omar Faruk Tekbilek is a Turkish musician and composer, who plays a wide range of wind, string, percussion and electronic instruments. He has developed a style that builds on traditional Sufi music and I felt his music was absolutely the right thing to represent ancient Egypt.
If you had the chance to meet Sergei Diaghilev, what would you say to him?
I would ask him out for dinner and would like him to tell me all the amazing stories of the Ballets Russes – I imagine it would be a long, long dinner!
What are you looking forward to doing when you come to London?
I will definitely call some old friends and I love walking around the streets of London, it's a great city. I love going to bookshops to look for treasures and I'm also looking forward to having a glass of white wine with a friend at the Coliseum.
Russian Seasons of XXI Century
Programme 1 Cléopâtre – Ida Rubinstein, Le Spectre de la Rose, The Firebird
Tue 16 & Wed 17 July, 7.30pm
Special matinee programme: Wed 17 July , 2pm Chopiniana, The Firebird
Programme 2 Cléopâtre – Ida Rubinstein, Scheherazade
Thu 18 & Fri 19 July, 7.30pm
Programme 3 Cléopâtre – Ida Rubinstein, Chopiniana, Polovetsian Dances
Sat 20 July , 2.30pm & 7.30pm
www.eno.org


Les Saisons Russes, Ilse Liepa as Cleopatra. Photo: Valeria Komissarova
Leave a comment
You must be signed in to post comments.