Feature:

Introducing Move IT 2016
This year MOVE IT, the UK's largest dance show, has moved east to the ExCel in London's docklands. We asked new Creative Directors Kate Scanlan and Tia Hassan to tell us what they have in store for the thousands of dance fans who will be heading there between Friday 18 & Sunday 20 March…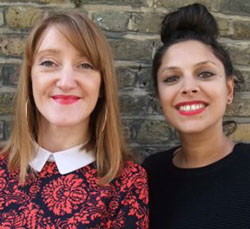 So this is your first year programming MOVE IT! Tell us about yourselves…
Kate Scanlan (left): I've always danced and loved dance; being Irish, every family gathering involves dancing. I've worked in the dance sector for almost 20 years now and I still feel as passionate about what I do. I've travelled the world with dance and had experiences I wouldn't have had otherwise. I consider myself to be very lucky, I didn't even know you could do what I do when I was growing up.
After graduating with a dance degree, I got a ten week job at Sadler's Wells in the lead up to the reopening in 1998. That was it for me; I found my spiritual theatrical home. I was one of the founding team for Breakin' Convention. Hip Hop helped me find myself as a person so it feels very personal and is one of the reasons I continue to work in this creative community.
In 2012 I founded Scanner's Inc as a vehicle for my own artistic ideas – it's a creative company for producing hip hop culture events and festivals, as well as developing the skills and confidence of independent artists and producers. I'm passionate about how hip hop promotes community cohesion, transforms unused spaces and connects people globally.
For me working on MOVE IT is fantastic. It's great to work at scale, I love the fact that 25,000 visitors will get to experience and enjoy dance. It's also a wonderful opportunity to reconnect professionally with dancers from all genres and all scales of companies. Tia and I have had a brilliant time on the show and the rest of the team is great. Everyone is so committed to making it fantastic.
Tia Hassan: I have always loved to dance. From an early age my Dad took me to jazz clubs where I would go straight to the front and freely dance next to the band, I'm still the same when I go clubbing throwing shapes next to the DJs. Coming from an Indian family full of entertainers and sports people the passion for performance has always been prevalent.
I studied Theatre Studies and did a Masters in Directing, then straight out of university started my own company Philtre Productions, which has a commitment to bring spectacle, theatre and the arts to audiences in unusual settings. I've been working in the industry for over 12 years now, producing shows for Edinburgh Fringe Festivals, UK and international tours for theatre, dance and circus companies. I support artists and companies in dance and theatre from producing to programme, marketing to business development, working in both the commercial and subsidised sector. I currently produce the Big Dance Bus which has toured the UK for over four years.
MOVE IT is a fantastic opportunity to bring all my skills to a large scale event. Kate and I are passionate about celebrating dance and providing access to it for everyone, from bedroom dancers to seasoned pros. We can't wait to share the experience with you all!


MOVE IT has moved to a new venue this year – what advantages will be having the show at ExCel London give you?
Kate: We are really excited to be taking the show to ExCel. It's a great space, it's easy to get to and in the heart of east London's creative community. We have designed the show floor so that our regular visitors will get the same MOVE IT experience, the studios, the feature stages, shopping; everything is still there.
ExCel is the perfect black box for dance it is going to look spectacular. We also will have a roaming camera unit who will be interviewing the stars of the screen and our own show giving a backstage access feel. This will be relayed live to the main stage screen so everyone can experience that access all areas feel of the show. ExCel gives us lots of space to grow as a show.
It looks like you are introducing some new features. What are you most excited to be adding to the mix?
Tia: The new programme additions for this year are aerial performance on the main stage, live DJs on the freestyle stage, Saturday social sessions in the Ballroom where there is a class followed by a free jam, targeted MOVE IT PRO sessions for students, teachers, graduates and professionals and generally tons of exciting new dance.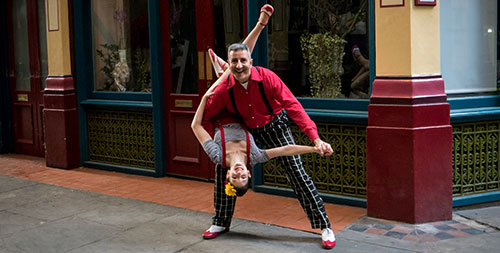 The beauty of dance is that it responds to the world of today and is therefore continually evolving. We've noticed over the last five years that the number of dancers developing non-traditional skills like tricking and circus has risen. The dancers of today are preparing for the dance of tomorrow. We really like that and want to encourage as many of our visitors as possible to realise the unlimited potential of the body and dance.
Kate: We are really excited to present the first aerial dance performances on the Main Stage at MOVE IT. Upswing(pictured), My Aerial Home and Natalie James (presented by Breakin' Convention) will take to the air with stunning aerial dance choreography.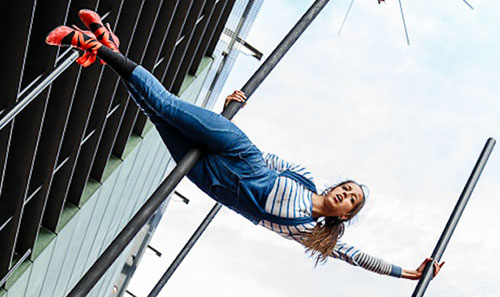 This opportunity to indulge in the diversity of dance also extends to our Studio programme. From Acrobatrix with Parkour Dance Company (sorry – already sold out!) to hooping with world record hula hoop troupe Marawa and her Majorettes; expand your skillset and develop your unique style.


Tell us more about the main stage acts…
Tia: There is so much we are excited about, it's really difficult to narrow it down. We would like to think we have something for everyone and it's all amazing quality.
We are delighted to welcome the Emmy Award Winning dancer and choreographer Jason Samuels Smith (presented by Bloch); Strictly Pros Kevin and Karen Clifton; Larondina special needs company; ballet and beatbox collide with Jenna Lee's LED Ballerinas (pictured); Phoenix Dance Theatre who are celebrating their 35th anniversary this year! Plus we are currently securing some more high profile guests so if you haven't already, get your tickets and stay tuned.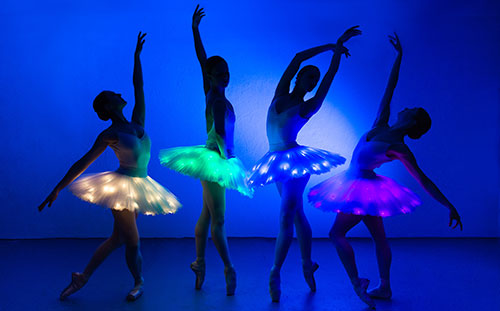 And what is the Main Stage Mass Shakedown?
Kate: This is one of our new ideas for 2016 – it's an opportunity for what happens on stage to actually get the audience dancing! Approximately 5,000 people gather to watch each Main Stage performance at MOVE IT and we want to take the physical energy from the stage into the audience. With the increase of mass movement through large-scale sporting and cultural events, and the public's growing appetite for dance, this seems like the obvious next step for MOVE IT – and we've given two of our high profile guests the opportunity to share their choreography.
On Saturday Akram Khan Company will be on stage to teach their choreography for Big Dance 2016. Get ahead of the pack and learn the choreography ready to dance in Trafalgar Square this summer.
On Sunday we welcome Darcey Bussell (pictured) to the stage to launch en masse her new dance fitness concept Diverse Dance Mix (DDMIX). Yes, you can learn choreography from Darcey herself! We are looking forward to having a lunch time groove with our audiences this year.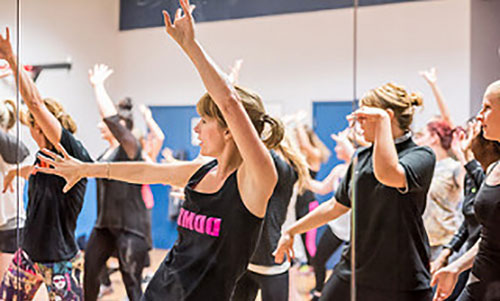 There are over 230 classes on offer – how does that work? Do you have to book in advance, or if just turn up on the day will be able to get in to anything?
Tia: The class programme is epic; it's unbelievable to imagine that as a student, dancer or dance fan you can literally indulge in all your favourite styles taught by incredible teachers in just one weekend. The class programme at MOVE IT is incredibly popular and whilst you can turn up on the day and book we highly recommend advance booking to confirm your place in your top choice of class. Classes are already selling out and once they are full that's it! But if you turn up on the day, don't worry there will still be classes that you can buy tickets for.


And what about the all important chance to shop?
Kate: Yes, shopping is still going to be a massive draw at MOVE IT. We have over 200 exhibitors this year, many of our annual exhibitors returning and lots of new ones too. The team at MOVE IT want the show to cater to all your dance needs from pointe shoes to fitness wear, beauty products to hula hoops.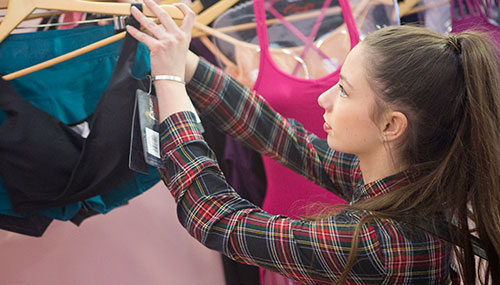 Who is MOVE IT for – is there really something for everyone?
Tia: MOVE IT is aimed at anyone that loves dance. We have such a diverse audience, from parents and young people interested in vocational training; dancers in training, graduates working out the industry and seasoned professional dancers, teachers and producers. We aim to present the broadest reflection of dance today to encourage more people to try something new and to provide role models in dance for as many people as possible.


London is sometimes described as the dance capital of the world – what's your take on that?
Kate: London is a global city and one of the top destinations of global culture. I think London has always been a melting point of culture, industry and business with people from all corners of the globe living here or coming here to work. As a result London is great at showcasing the world on its stages. There is so much dance innovation and talent based in London and the UK as a whole. The diversity of dance and dancers is very rich here and so at the UK's biggest dance event, we are able to present the world of dance at MOVE IT and that's very exciting.
MOVE IT
ExCel London, Fri 18 – Sun 20 March 2016
Tickets start at £15.50 per day (classes are extra). Get a 10% discount by quoting LONDONDANCE when you book online at:
www.moveitdance.co.uk
---
Leave a comment
You must be signed in to post comments.