Interview:

The 4D spectacle of Motionhouse
Although they are one of the UK's most popular, long established dance companies who tour widely with their theatre based and open air '4D' spectacles, Motionhouse aren't often seen in London. As there's a chance to catch Broken at The Peacock in April, we asked Co-Director and Founder Kevin Finnan to tell us about his company's winning mix of dance, physical theatre, circus, music and video, choreographing the Opening Ceremony of the London 2012 Paralympic Games – and his interest in environmental issues…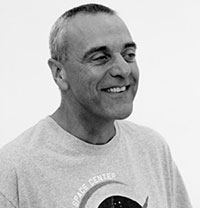 Motionhouse are probably best known for your spectacular work outdoors – what led you back in to the conventional theatre space for Broken?
Our theatre work is at the core of what we do; we started with theatre work in 1988 when it was just Louise Richards and I performing. We had a vision of a type of work we wanted to make and we have never stopped pursuing that goal. Our theatre productions have grown with us and this is where we have developed what we call our '4D' spectacle, where dance, physical theatre, circus and music all work together to create an immersive experience for the audience. In Broken and the show before that, Scattered (2009), we have been experimenting with overlaying the music and the dance with digital imagery which works with the dancers as they move. Another important aspect of our theatre productions is the set – we have been working since our very first productions with Simon Dorman to make exciting sets which are integral to the nature of the movement and the show itself. This has transferred to our work outdoors, where the set also plays a key role in the concept of the show. Our outdoor work came later, and now the two forms work in tandem very well and offer scope for producing very different productions. They inform and challenge each other; different audiences, different scales and very different ways of seeing force us to innovate and create new material and devices. It is an exciting cross fertilisation.

It's a very different relationship with your audience isn't it – you have to get them into the theatre!
We have a strong and loyal fan base – our work is very popular with audiences – we make it for them to enjoy and be inspired by. As a touring company we are lucky enough to return regularly to theatres around the UK and elsewhere and our audiences always come out to see us. For example, Broken is on its fourth tour of the UK – simply because people wanted us back. We work with the theatres we tour to publicise the shows and of course these days, social media helps get the word out about where we are performing. Connecting with and staying in touch with our audiences is really important to us – they are at the heart of everything we do.
So tell us why we should come and see Broken at The Peacock…
It's an exciting, exhilarating and moving show – we have consistently fantastic feedback from our audiences, which as an artist is the best form of recognition – it's why I make my work. Broken is about the Earth, taking audiences on a breathtaking and moving journey from the Big Bang and the creation of life to the modern world – via a series of scenes that examine our sometimes precarious relationship with the planet we live on – using the fusion of dance, physical theatre, circus, digital imagery and extraordinary set design that we are known for. In Broken we interact with film – passing through it, moving on it, engaging with it and then try and stretch this out to the audience – a visceral experience. The great thing about Broken I think is that you don't have to be a dance-lover to enjoy it – the sheer spectacle of it and all the different elements give audiences something to enjoy.
Did the idea for it grow from your work on the London 2012 Paralympic Opening Ceremony – which also started with a Big Bang – or is it all part of the Motionhouse theme?
I really loved being the choreographer of the London 2012 Paralympic Opening Ceremony – and a privilege to be part of such a creative team. It was a wonderful celebration of art, science and the journey towards egalitarian society for all. The directors Bradley Hemmings and Jenny Sealy deserve enormous credit for conceiving that vision and seeing it through.
As an artist you have to speak about your experience of life as truthfully as you can and each artist has their own perspective. At the moment making work about the human condition and our place in the world is the most important thing for me to do, so I am making work about our fundamental relationship with our environment. Scattered (2009) was about our relationship to water, Broken is about our relationship with the Earth and my next show Charge will be about the human body and its relationship with energy. I am following the path of what moves me as an artist and a member of society.

What do you look for in your performers?
All our performers are trained in dance. When we look for a new dancer we look for someone who is brave, skilful and willing to try things out. All of our dancers have added to their skills for each new production that we make – be it aerial work, acrobatics or hanging off the bucket of a JCB digger! They have to be great dancers with a lot of strength and a lot of courage. We have a great team. They are all employees rather than freelancers – something that we are very proud of. It means that they are able to fully invest in the company and this makes us stronger. I look for dancers who want to be part of a creative team. I am not interested in simply telling dancers what to do. I like to work with my company as fellow artists who want to create and develop the work. Many dancers stay for years – I think that partly this comes from the fact that our repertoire is so diverse that it offers them an opportunity to develop their skills and try out new things. We are never bored at Motionhouse! Junior Cunningham, our rehearsal director has been with us for 13 years and many of our dancers have been with us for a considerable period of time.
And you have a regular team of collaborating multimedia, lighting and sound designers.. How do you go about making new work – does it always start with your idea, or does it sometimes come from one of the collaborators?
The idea for a new show always comes from me. I then work closely with my team of collaborators which includes the dancers to develop this idea and create the different elements – the set, the digital elements, the music, then the lighting and costumes. It is a long process – we have already started on our next show Charge that will premiere in 2017.
You are based in, and make your work in Leamington Spa – but tour globally. Is that locality important to you?
Yes, the relationship with our local community is very important. We do as much as we can in the local area, and regularly organise open rehearsals and other performance events for local people to enjoy. In addition, we run classes from our studio in Leamington Spa – we think it is very important to pass on our passion for dance and to inspire the next generation.
And will you be making more work to be seen outdoors?
We are currently making a new show called BLOCK, in collaboration with NoFit State Circus. I am interested in the relationship between dance and circus and I want to use this broader language to express myself. The fusing of these into a new language which works in tandem with creating spectacular theatre is the core of our work. Our audiences respond to the visceral physicality of this fusion and hopefully we will achieve this with BLOCK. I am working with three of our dancers and four circus artists to make the show, which will tour to festivals in the UK and Europe this summer.
We will also be making a new show called Torque for dancers and JCB diggers for the International Dance Festival Birmingham this May.
In terms of indoor work, we are also working on our next theatre production Charge. The show takes its inspiration from energy – human, bio medical, solar, elemental and atmospheric and will be a synthesis of art and science in both form and content; a unique collaboration between performing and digital artists, researchers and academics. In Charge we will use the latest academic and scientific research to create a world onstage though choreography, film projection and LED costumes, bringing to life cell division and organic composition, weather patterns, energy storage and humans as energy manipulators. The first UK tour in 2017 is already booked, but hopefully we will bring it to London in 2018.


Motionhouse recently had a 25th anniversary – it's probably asking the impossible, but give us a few standout highlights…
Collaborating with Legs On The Wall from Sydney to create The Voyage, our biggest ever show, which launched the London 2012 Festival in the West Midlands in Birmingham.
Our first major road trip tour across 3,000 miles of the

USA

performing as we went at 24 venues, including New York.
When we opened the Sibiu International Theatre Festival in Romania, the show was sold out and the audience were in their seats, but there were so many people who wanted to see the show, that they opened the doors just before Scattered began. Every single space in the theatre was filled – the stairs, the aisles were packed with people who really wanted to see the work – and then there were 12 curtain calls after the show! It was wonderful – such enthusiasm.
I also loved performing in Tokyo and I will never forget standing in the Olympic stadium listening to the crowd roaring its approval of our show… happy days.
Motionhouse
Broken 6 – 9 April, The Peacock
www.sadlerswells.com
Leave a comment
You must be signed in to post comments.