Interview:

Jorge Crecis - on the ropes in Greenwich
Jorge Crecis is the choreographer and director of Through & Out: Skipping Extravaganza commissioned by Greenwich Dance as part of Big Dance and to be performed at Greenwich Park on Saturday 12 July 2014. Through & Out is a dance-skip marathon event, involving Jorge's company of eight professional dancers, dozens of local dance students, pupils and staff from nearby schools and members of the audience.
Hailing from Madrid where he studied sports science and contemporary dance, Jorge has performed with companies in Barcelona, Brussels and London; his choreographic work has been performed in the UK, Europe, Russia, China and later this year he'll be teaching and working with a group of professional dance artists in Jordan. His piece for Scottish Dance Theatre, Kingdom, received critical acclaim and wide audiences. Jorge is currently studying for his PhD at Goldsmiths University London. His company, SQx, produces work based on his synthesis of sport and dance movement patterns.
What inspired you to come up with Through & Out for Greenwich Dance's involvement in the Greenwich and Docklands Festival/Big Dance?
I like to involve a difficult task when I'm creating new work – my previous work was called 36 and involved 12 dancers throwing and catching 36 (full) bottles of water! I'm very interested in how motivation works – skipping, for instance, can be very difficult at the beginning but you can improve very quickly and the more you improve the more you're motivated. I decided to work with two sorts of dancers – those who are masters of skipping and those who aren't. We're creating the work Through & Out: Skipping Extravaganza which allows non-performers the chance to experience what we experience as performers. I think it's going to be fantastic in beautiful Greenwich Park!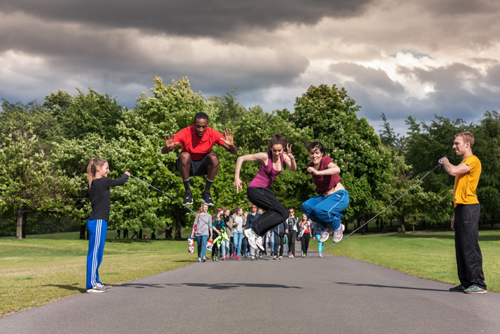 What are your connections with Greenwich?
I lived in New Cross for four years and I really like the area – I approached Greenwich Dance because I know they are champions of participatory dance!
Is skipping a part of your own keep fit regime?
I'm a terrible skipper! In fact I had my first skipping session last week and to my surprise I had a blast! It was such a discovery I'm now addicted to it! Skipping gives you immediate feedback; if you get tangled up in the rope there's nothing you can do about it except stop and get untangled, so it lets you know how well you're doing. Through & Out is also about motivation and reward, something I'm really interested in: when the task is easy your motivation and reward is low, but if you choose a task which is very difficult – like skipping for me – the reward is really high. That's what we're aiming for with Through & Out – we will be working with dance students as well as parents and staff at schools and colleges throughout south east London – I'm aiming to have 500 participants at Greenwich Park on July 12th.
What do you think the most challenging thing will be about putting on Through & Out in Greenwich Park?
Crowd control might the hardest thing as well as making sure the audience finds us as it's a big park. We've devised a treasure hunt map which will give precise clues about where we are performing. The eight dancers in the company will split into three or four 'chapters' to perform with all the people we've been training and members of the public who want to join in. The idea is to come together in one massive chapter at the end!
How did you meet up with The Artist and how did you work together on this project?
The first time I met Vince, aka The Artist, he was playing guitar at my classes at The Place where I taught for four years. We collaborated on our first piece – 36 – in 2010-11 for Edge, The Place's post-graduate company. We've now done seven pieces together including Kingdom for Scottish Dance Theatre and it works brilliantly. It's absolutely great to work together and we are co-directing Through & Out. We are in the studio together all the time and we inform each other all the time. Vince creates sounds with microphones, guitar, drums and he loops them through a PA system with floor pedals – people will be able to download the music before they come to the park and the treasure map will tell people what to play on their Mp3 player and when.
Tell us what you're up to at the moment apart from rehearsals for T&O and how your summer is shaping up…
I'm totally immersed in the project and planning to replicate it nationally and internationally. I'm also part of a scheme to help the professional development of dance artists in the Middle East; I'm going to Jordan in August to work with a group of professional artists/dancers/choreographers teaching them to develop their own skills. I've been to Jordan, Istanbul, Egypt, Israel and I'm fascinated by the whole area. If we can use art as a tool of peace, wouldn't that be amazing.



With a hop and a skip, get down to Greenwich Park to see Through and Out on Saturday at 11.30am & 2.30pm
More Big Dance 2014 events
Leave a comment
You must be signed in to post comments.