Interview:

Fearghus Ó Conchúir - on The Casement Project
Fearghus Ó Conchúir's ambitious dance commission, The Casement Project, is inspired by the British peer, Irish nationalist and international humanitarian Roger Casement, who was hanged in Pentonville Prison in 1916. Knighted for exposing human rights abuses in the Congo and the Amazon, his support for Irish nationalism during the First World War was a British scandal. His homosexuality was even more scandalous. The production is part of 14-18 NOW, the UK's arts programme to mark the centenary of the First World War…


Roger Casement is a name that people may recognise – but his story isn't widely known. What inspired you in particular?
I try in my choreography to give expression to some things that have been neglected or unarticulated. I think dance can give expression to complex experiences that aren't necessarily easy to communicate in words. So when I was thinking about the centenary commemorations of the Easter Rising and of the Great War, and thinking about what we needed to address now, I thought it was exactly the complexity of Casement's life and afterlife that we should highlight. His reports and campaigning to expose human rights abuses in the rubber trade of the Congo and the Amazon, remind me that we can't think about a thriving national body without addressing the needs of those who are beyond our borders. I'm aware that we're at a moment in Europe and in the UK in particular, when some people are trying to close borders. Casement's public and private actions suggest to me the necessity and validity of a different approach.
I'm also inspired by Casement's life and afterlife because of what it teaches us about bodies and because it invites the particular knowledge of dance so that we can understand it. Historians concentrate on the words in Casement's life – his reports, his correspondence, his diaries and their accounts of thrilling sex with other men. But Casement was a striking body, notably tall, athletic and good-looking. He read abuse on the scars and mutilations of bodies he saw in the Congo and in the Amazon, as well as in the emaciation of the poor in the West of Ireland under colonial rule. He was sensitive to the beauty and dimensions of the men to whom he was attracted. His own body was subject to state scrutiny and Cabinet discussion after his death, to determine if he could have had the sex which his diaries describe. And the repatriation of his body to Ireland was the subject of negotiation between the British and Irish governments for fifty years after his hanging at Pentonville Prison. Casement's body, and his knowledge of bodies, reminds us that what bodies do, where they go, how they desire and transform is political. All this inspires me to keep working in dance as an artform that explores and models alternatives of individual and collective embodiment.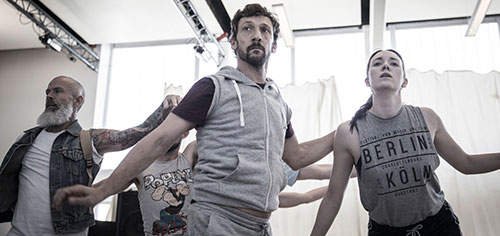 You say that growing up and at school in Ireland you weren't really aware of Casement. When did you discover his story? Was it something that you were immediately drawn to exploring creatively?
In 2011, I gave a presentation at a conference in Cork where I met a curator from Madrid who happened to be reading Mario Vargas Llosa's fictionalised biography of Casement, The Dream of the Celt. She told me that the book was a best-seller in the Spanish-speaking world and asked me what I knew about Casement. At the time, I knew nothing about him and was intrigued to discover a gay humanitarian in the pantheon of Irish heroes that I'd known nothing about. And I think I knew immediately that I wanted to research him. The hiddenness of that history and my coming to it through a foreigner was part of this creative investigation from the beginning. It wasn't until you asked me this question that I realised quite how long ago I started on this project and quite how specific that moment of discovery was (I remember the dinner where we started the conversation).
Tell us about the series of interconnected events which are part of the project…
It was important to me when I was thinking about this project that I could invite many different people to be involved in it. I also wanted to choreograph on scale that could cross national boundaries and appear in different places. So we have a stage show, now called Butterflies and Bones: The Casement Project, that premieres at The Place in London (on 11 & 12 June) and will be presented in Dublin and Belfast. We have a day of dance on Banna beach in the south-west of Ireland – a day for seeing and joining in a celebration of movement. It's free so it's designed to welcome everyone. We're making a short dance film that will be broadcast on television. We've got two academic symposia, one at Maynooth University in Ireland and the other between the British Library and The Place. Those symposia are designed to bring artists and academics together and to provide a forum for those people who want to engage with the history and join in a conversation about the work with experts. Finally we also have engagement activities such as a commission of participatory work that will be presented at the day of dance on Banna Strand, as well as an ongoing series of workshops with Micro-rainbow International who support LGBT asylum-seekers and refugees in London.
Tell us about the stage show…
Butterflies and Bones is not going to be a dance biography. What I love about live dance is precisely its liveness. It's about what is happening now inside and between the bodies of the performers and the spectators and what that might change for our futures. However, the performers' bodies on stage carry their engagement with the historical and biographical material that we've gathered. History is usually a series of dates, names, places and doesn't acknowledge the sensations of what it was like to swim in the Amazon, to cruise in the Canaries, to walk through the jungle in the Congo, to have sex in the bushes or tea at the Home Office. But these are facts too, ones that are experienced in the body, that shape bodies and that get passed on between bodies, from one generation to the next. So what we're focusing on is a neglected history of bodily sensations. The title, Butterflies and Bones, suggests something of the scope of those sensations: Casement's bones partially exhumed from Pentonville Prison for a state reburial in Ireland in 1965; the beautiful blue butterflies that Casement collected in the Amazon during his investigations of atrocities there and which are now in a case in the Natural History Museum in Dublin. We're dancing between those different experiences.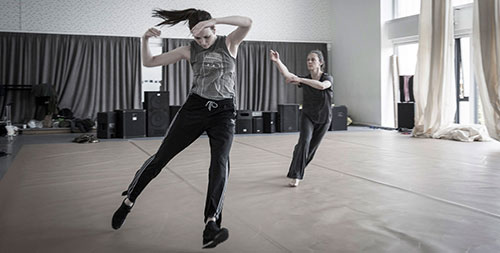 Why did you choose Banna Beach, County Kerry for an event?
Féile Fáilte or Festival of Welcome will take place on Banna Beach where Casement was captured when he landed there on his return from Germany to stop the Irish Rising on 21 April 1916. The Féile Fáilte is a day to welcome the stranger – the one who comes ashore but also the one who is already inside us. So I've programmed a day of dance performances by a variety of Irish dance companies such as Croí Glan Integrated Dance Company and Irish Modern Dance Theatre, as well as a version of Butterflies and Bones. As well as seeing great dance, I want people to be able to join in the dancing so we'll have a céilí in the early evening and a rave late at night. We'll have music acts too from hip hop to trad and the whole thing will finish at midnight with a spectacle of light on the shore. This will all happen on the beach, a place where everyone can be welcome and where I think we're all a bit more comfortable with our bodies. What is exciting about the Féile Fáilte is that though The Casement Project is providing the frame and platform for the day, its success depends on the contributions of lots of other artists and of the people who come to attend. That collaborative approach feels like the right spirit.
You are also making a short film – Fáilte – at the same location. Are you hoping for a wider legacy of The Casement Project? What might that be?
We've worked with Emmy-award-winning director, Dearbhla Walsh, on a couple of other films before and I know from that experience that by broadcasting work on television I can reach people who would never think to attend a live dance performance. I remember a previous film called Match being discussed on a radio phone-in programme the day after it was screened and a man called in to say that he had no idea what the dance was but that he couldn't stop watching it. Particular kinds of people feel comfortable to go in to a theatre to see dance. For me it is important to reach beyond that important engaged audience to those that don't yet know how dance might affect them. Showing up on their TV screens is one way to do that. Also, with a film, we can reach even further beyond national boundaries, giving The Casement Project a legacy that reverberates. As the choreographer, I don't get to control that legacy. That will be up to other people. But what I hope is that The Casement Project can join the work of other dance advocates in showing what ambitious dance projects can achieve, reminding people to take seriously the knowledge of bodies and the wisdom of an art form that works through them.
How do you imagine Casement might feel to see his life being celebrated/marked in this way?
I wonder if Casement, who for the most part, and of necessity, separated his public and private activities, would find surprising our willingness to show the personal so publicly and highlight the political in those private moments. It is a great gift that I get to work with performers who are brave and skilled enough to be publicly vulnerable in a way that the Victorian and Edwardian culture in which Casement lived would have found shocking. On the other hand, I'd like to think he would have rejoiced in seeing articulate bodies expressing themselves.
Do you know if he had any interest in/appreciation of dance?
There is some evidence of how he understood particular kinds of dance. As part of his Irish nationalism, he appreciated traditional Irish culture, including its dances. But it's of the dancing he sees in the Amazon that he writes most. When the brutal overseers whose abuse he is investigating convene a dance gathering of the local tribes, Casement sees both the pleasure that the people get in coming together to dance in community but also sees that it is a moment of coercion, a performance put on for his benefit. Nonetheless he also uses it as a moment to take note of scars on people's buttocks and their general state of malnutrition. So he is a sophisticated observer of the body and of the power relations that the dance both conceals and displays. That kind of perceptive analysis of political bodies keeps me on my toes as I choreograph The Casement Project.
I am also encouraged by a, perhaps, more romantic notion of the significance of dance that Casement sees in the Amazonian Indian for whom, 'everything but his music, his dance, and his songs were temporary.' Instead of dismissing dance as an ephemeral art form, maybe we need to think of it as the thing that survives longest, passed from body to body, over borders and through time.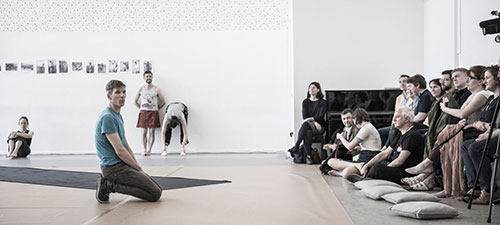 Butterflies and Bones – part of The Casement Project
The Place, 11 & 12 June 2016
www.theplace.org.uk
Photos taken in The Casement Project rehearsals by Ste Murray
Leave a comment
You must be signed in to post comments.